Have you always enjoyed writing? My mother started my love of words and books from the age of about four. Two of my aunts were school teachers and by gas light and candle light on occasion, we'd spend hours battling with our cousins over word games they conjured up for us to stretch our vocabulary. There were very few TVs about in those days! It was a natural progression to read voraciously as a teenager, and then start to write for myself. In those days it was poetry that occupied my pen, then life got in the way and I only started writing again six years ago.
What writing are you most proud of? http://www.tedtayler.co.uk/the-long-hard-road/time-for-reflection
This piece was the hardest thing I ever had to write.
What books did you love growing up? I never grew up! While I was getting older I enjoyed Dickens, Conan Doyle and more recently Rankin.
Who is your favourite author? Charles Dickens. I keep going back to 'A Tale of Two Cities'.
Which is hardest – writing, getting published or marketing? At last! A simple question! I find writing easy and today getting published isn't the lottery it once was. Marketing, that's the killer isn't it? If I could crack that one I would be a happy man.
Do you plan to publish more books? Given a little encouragement by a few more readers – then yes, definitely!
What else do you do to earn money, other than write? Now that I am almost sixty-eight, my full time working career is behind me. Ever since 2002 I have worked as an Exam Invigilator at a local school. We have a team of about two dozen men and women who look after students from the age of 11 – 18 when they sit various levels of examination during their school life. It's a challenging yet very rewarding role.
What other jobs have you had in your life? When I left school in 1964 I was a bank clerk for two years. I joined a tyre company two years later and stayed there until I was awarded the DCM in 2000. (DCM standing for Don't Come Monday!)
While I was there I was a Cost Accountant, a Cost Investigation Manager and an Industrial Engineer.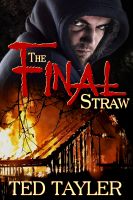 Buy Now @ Amazon & Amazon UK & Smashwords
Genre – Crime / Thriller
Rating – 18+
More details about the book
Connect with Ted Tayler on Twitter
Website http://www.tedtayler.co.uk/